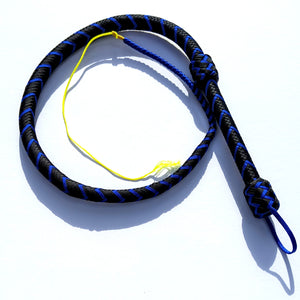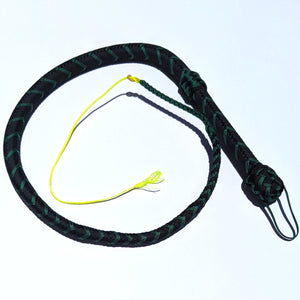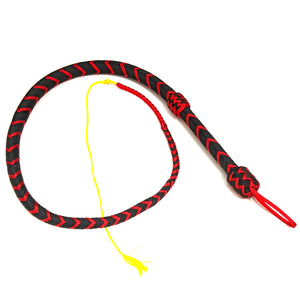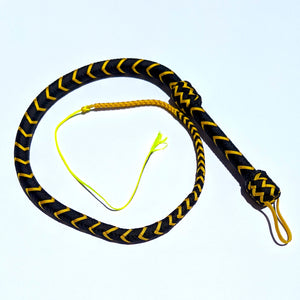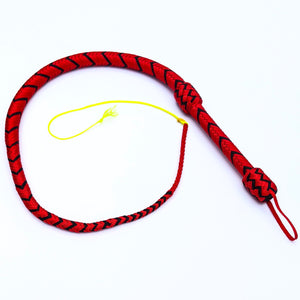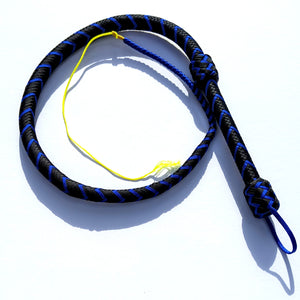 Bullwhip - The Ringed Viper in whipmaker cord
I build my 3ft Ringed Viper with a 6" handle by default, 4ft and 5 ft come with a 9" handle. The transition is stiffened.
I start with a spring steel handle rod, it's encased with 6 layers of fabric, shot loaded and the tapered section has as many as 11 layers of micro-braided 750, 550, & 250 paracord tapering from 3/4" to 1/8" as a core that runs the length of the whip and forms a loop to quick attach cracker/falls to the tip.
I build these whips with 2 hand plated layers that line up in the same plane to the whip is highly accurate and allows precision roll and volley/plane control.
Shorter lengths have a quick change cracker change system built in, the whole cracker/falls comes off and can quickly be changed.
Message me the colors you want used. or call 5204777039
Whipmaker cord is a finer 3mm (3/16") thinner paracord type nylon.
Colors: Black, Coyote Brown, Electric Blue, Kelly Green, Yellow, Imperial Red, International Orange
What is Tech Lace?

This is a wiring harness lacing Dimensions 0.1" wide and 0.01" thick flat braided material. Breaking strength is 90 lbs!
These are far more compact and dense than a paracord whip this Tech Lace allows for finer tapers and is a good artificial replacement for kangaroo hide. This material takes longer to build up layers of finer plating but results in a higher quality whip.
I use kevlar techlace in the bindry on these small whips.
The taper flows the entire length of the whip from approximately 0.65 inches (16.5mm) tapering to 1/8" (2.5mm or 3mm) at the Falls  attachment.
You can use a quick change falls with quick change cracker loop, or use my innovative tapered braided snapdragon crackers (they are about 1ft long and act as a short falls and cracker and are designed to last for a single throwing session