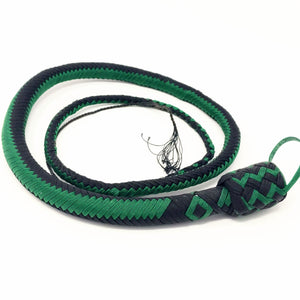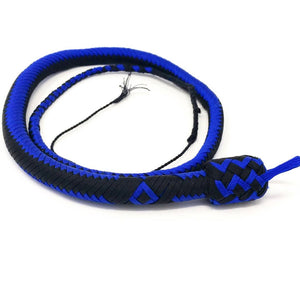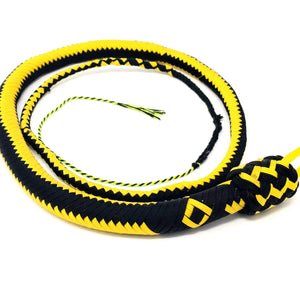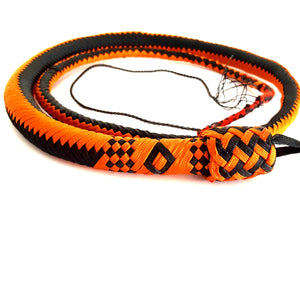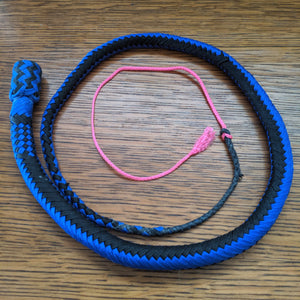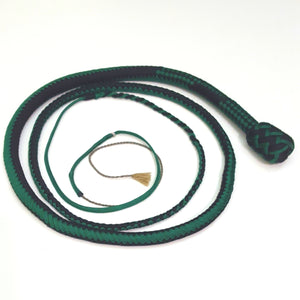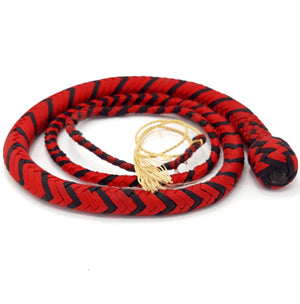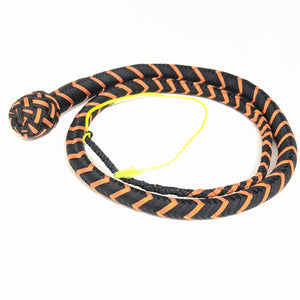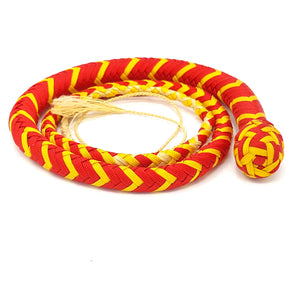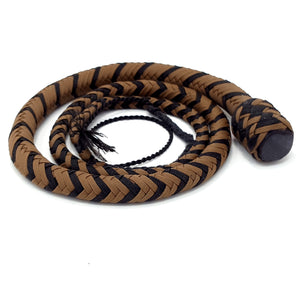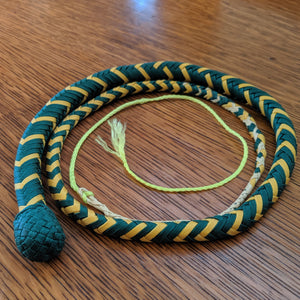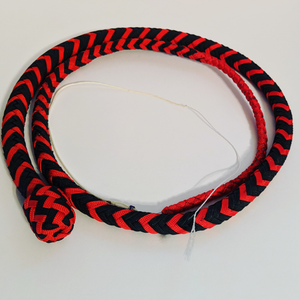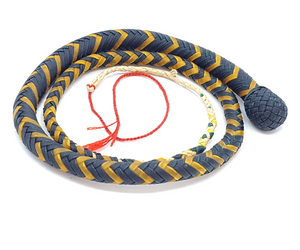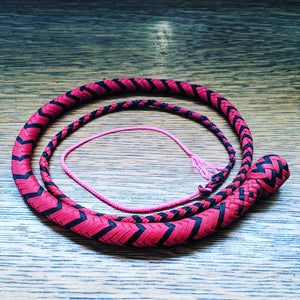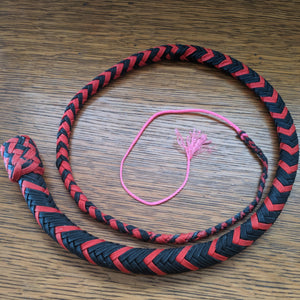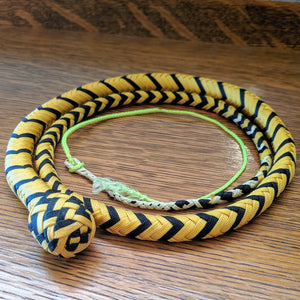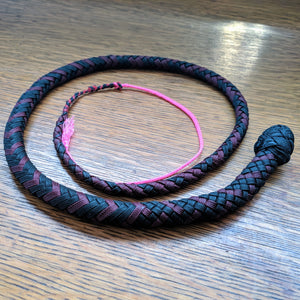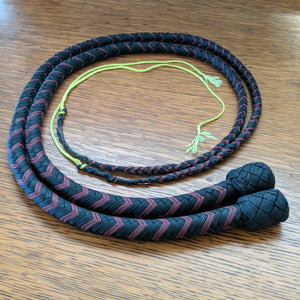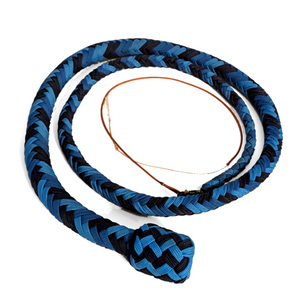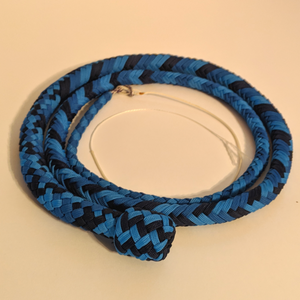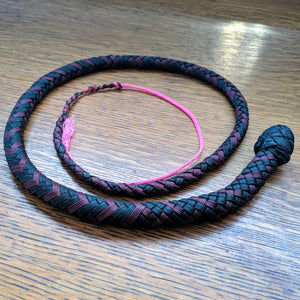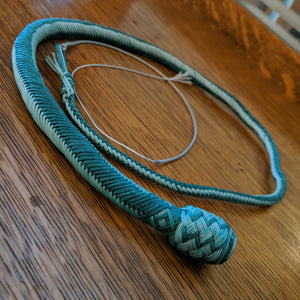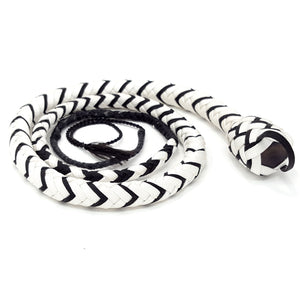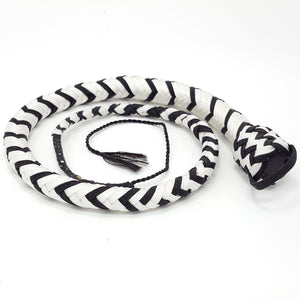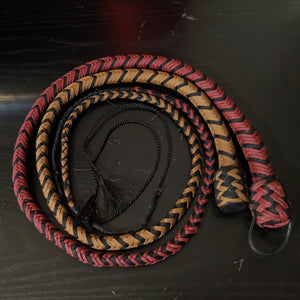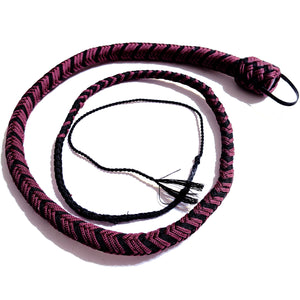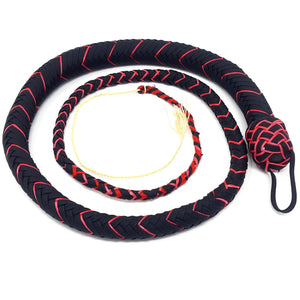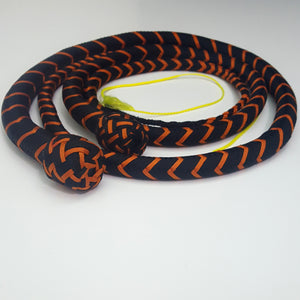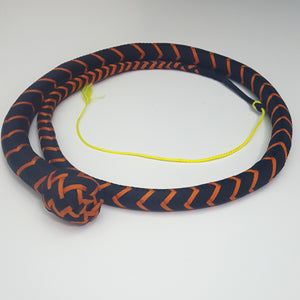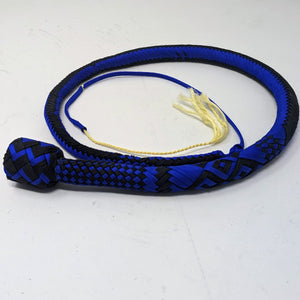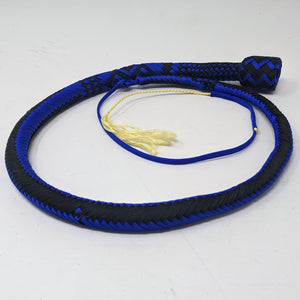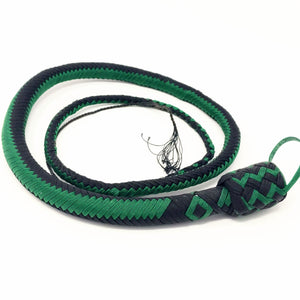 Snake Whip -Signal in Whipmaker Cord or Paracord
Pocket Snake whips are designed to coil up and fit in your pocket or satchel. The entire whip is flexible.
Paracord whips are a budget-friendly option that requires much less maintenance than leather. They last a very very long time and are also UV-resistant and weather friendly. They are an excellent choice for a reliable, maintenance-free whip especially when you live in a climate such as Arizona where keeping leather in your truck isn't the best idea as your leather whip will die a horrible death in less than a month in some cases.
They are shot taper loaded with a tapered nylon core. The Shot bag is multiple layers of plated material, covered by a single pass of plating to form the initial core, The overlay is aligned to that plating so they will hold a plane (my snake whips are popular for this reason). This means that all the layers line up, (all the way through) They are flexible in one plane and somewhat stiff in the opposite plane.
The taper flows the entire length of the whip from approximately 1/2" to 1/16"" at the tip. in 550 paracord these will be 12 Plat, In whipmaker cord these will be 20 plat or higher typically.
Please let me know the colors you wish your creation to be.
Whipmaker cord: 4mm wide thinner material I have in stock Black, Royal Blue, Kelly Green, Yellow, International Orange and Imperial Red.
550 Solid Colors in stock:
Black, Dark Green, Midnight Blue, Royal Blue, Colonial Blue, Red, Burgundy, Goldenrod, Hot Pink, Fluorescent Yellow, Fluorescent Pink, Fluorescent Orange, Tan, White
550 Patterned Paracords:
Rattlesnake, American Flag (Red White & Blue)
275 Paracord colors in stock:
Olive drab, Fluorescent Orange, Yellow,Brown, Tan, Silver Grey, Dark Grey, Maroon,Turquoise 
Why 275 Paracord? 275 paracord allows for higher plat counts, better flow, smoother tapering on shorter whips.
Whipmaker Cord:
3mm wide (3/16" before tension) and half as thick as paracord sheath normally is.
Black, Coyote Brown, Imperial Red, International Orange, Bright yellow, Kelly Green, and Electric Blue.
Can be mixed with 275 paracord but may result in ridges in the whip where the 275 paracord is thicker.
What is Tech Lace?

This is a wiring harness lacing Dimensions 0.1" wide and 0.01" thick flat braided material. Breaking strength is 90 lbs!
These are far more compact and dense than a paracord whip this Tech Lace allows for finer tapers and is a good artificial replacement for kangaroo hide. This material takes longer to build up layers of finer plating but results in a higher quality whip.
The taper flows the entire length of the whip from approximately 1/2" Heel knot Body is 3/8" to 1/8"" at the tip.
4ft may be 3/4" tapering down to 1/8" near the cracker loop.