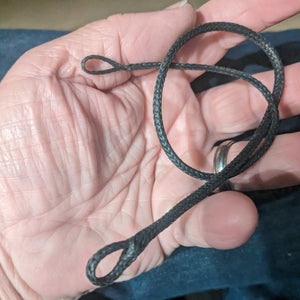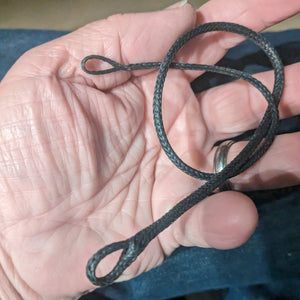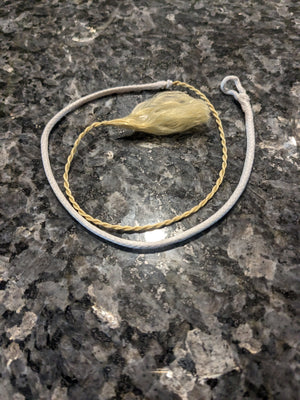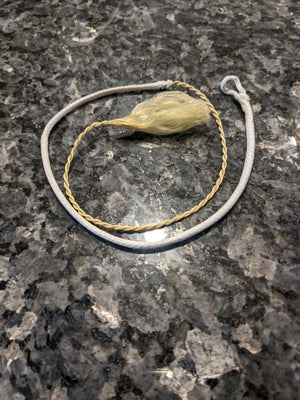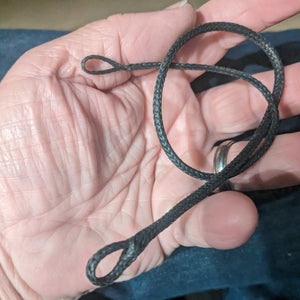 432 Tapered Falls
The main advantages of this type of falls:
These are for my whips with quick change english eye cracker/falls attachment. They are tapered from 4 layers to a loop of single and can be used in traditional falls hitches but at 3.5mm they are around the size of 275 paracord but about 8 times as strong and at least 4 times as durable.
Traditional whip falls have a taper that when pulled thru the falls hitch tightens the falls hitch well, paracord whips have issues with coming apart  many times. I believe this design helps greatly as driving a tapered falls thru the hitch, though difficult does indeed make the falls hitch very tight and secure. 
The  taper down to the cracker helps carry more energy to the cracker.
The exposed English eye allows for secure cracker attachment quickly and efficiently.
This results in a 3.5mm falls tapering down to just smaller than 1.5mm. 
Material Specs:
(Gray)   DUPONT VECTRON® 400lb braided material
Vectran®T97 HT is a high-performance multifilament yarn spun from liquid crystal polymer (LCP). It has high strength with virtually no creep or elongation. Vectran® has superior abrasion resistance, excellent moisture resistance, and exceptional property retention over broad ranges of temperature and chemical environments.
(Black)  TECHNORA® 400lb braided material Similar to *KEVLAR*
Braided Technora® 400 Lb. tensile strength. Polyurethane coating. This coating protects the Technora® from UV damage, increases flexibility, better knot strength, and chemical resistance. Solution dyed Black: Solution or doped dyed yarns are manufactured by adding a black pigment color to the polymer melt in spinning process. This results in fibers that are fully impregnated with pigment coming out of the spinnerets in a one step process. This process results in outstanding colorfastness and enhances UV protection.
(White)  DUPONT SPECTRA® 500lb braided material.
Spectra ® 500 Lb. tensile strength. Note: This product has been pre-stretched and heat set to reduce elongation over time. This cord is also coated with an soft waterborne aliphatic polyurethane and a polyethylene based textile softener. This makes the  Spectra ® better able to resist abrasion , and keep out contamination from dirt and sand that break down the fibers if allowed to get into the braid.