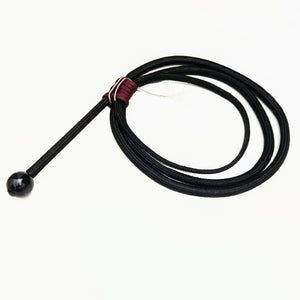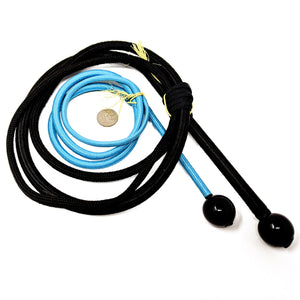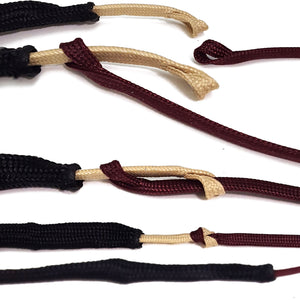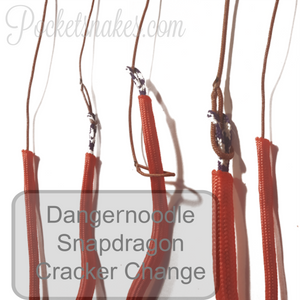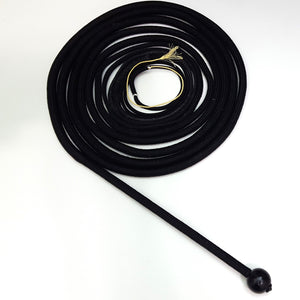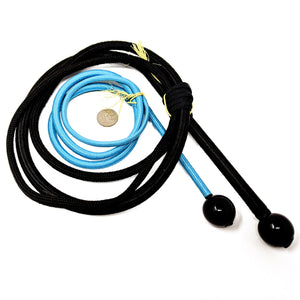 Bullwhip - Sidewinder - Waxed version
This is the fully waxed version, soaked thru the entire whip, helps on longer whips to reduce the abrasion and increases the weight a bit. I charge $10 for the trouble to wax the whip included in the prices for this item.
I designed these as trainer bullwhips for teaching little whipper snappers.
Differences from the dangernoodle whip:
18" to 36" tapered falls to balance the whip better (lengh of whip is from the butt to the falls loop, so a 7ft whip will be around 9ft to the cracker.)
Heavier in the body 1/2" instead of 1/3 or 3/8"
6oz - 9oz shot loaded instead of 1.5 oz shot load, again to balance
(a 7ft whip unwaxed is around 10 oz or 0.7lbs)
9 to 12" handle instead of 6" handle length for more leverage
Quick attaching Tapered falls, with quick attach cracker, instead of the safer, lighter snapdragon crackerfalls engineered cracker. This makes the whip 18-30" longer than the body length as the falls adds length and has a similar quick attach loop. The English Eye is Larger and beefier but the falls is tapered with 4 - 6 layers in just the falls.
You can still use snapdragon crackers but you will have to choose what ones work best for your whip, so I recommend a sampler pack, you can use traditional crackers wth these and attach them to the falls however you wish.
I wanted to play with building perfect whip cores and these little guys were the result of several years of experimentation with perfecting core builds. These are a sheathed whip design approximately 1/2" at the handle and taper internally down (when compressed with your finger to 1/16" diameter (they don't look tapered but do taper under load). Danger noodles have 5-6 layers at most of finely braided nylon sheathing, Sidewinders have 7-9 layers of finely braided sheathing and this allows for finer tapering.
Video below is of a danger noodle I'll replace it with a sidewinder video when I get to the park.
I've refined the design to be efficient, easy to crack and a ton of fun to throw. They are also budget-friendly, durable and very portable.
These are $105 for a 5 ft whip in Black. Add length at $15/foot. I can make these up to 100 feet in length. CUSTOM ORDER for lengths over 15 feet. Email Me with details on your custom order and I will respond within 24-48 hours, I Currently have these in Black.
Compatible with my Snap Dragon quick-change cracker system. My YouTube channel features videos for learning to throw these whips as well as tricks and fun stuff you can do with whips. Check it out!
Changing Falls is a snap, here's how you put a falls on:
How to change a cracker: