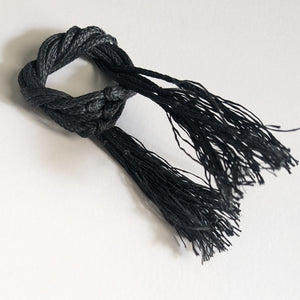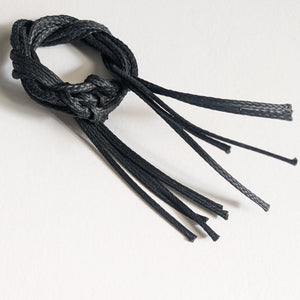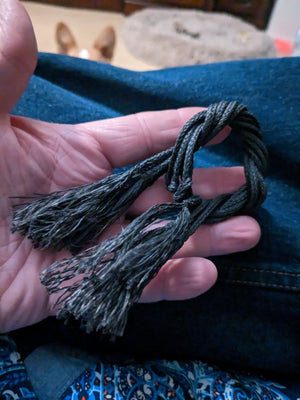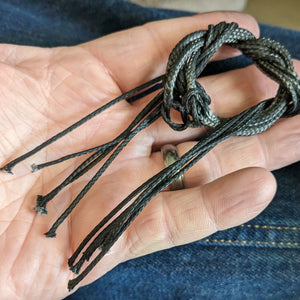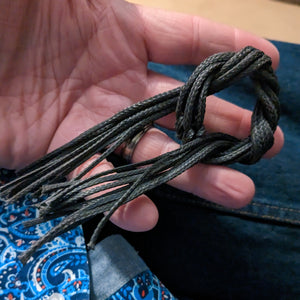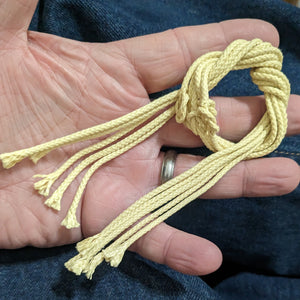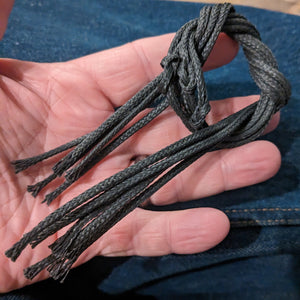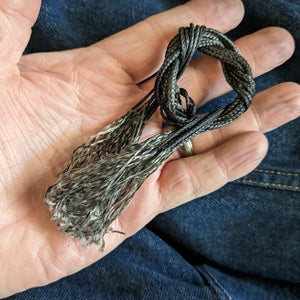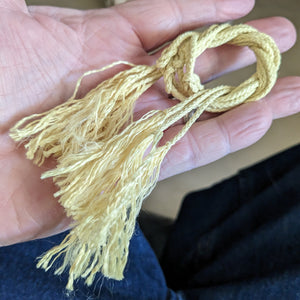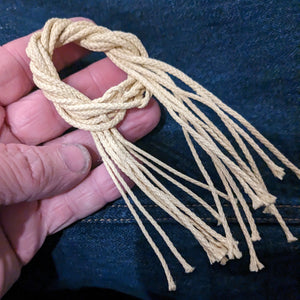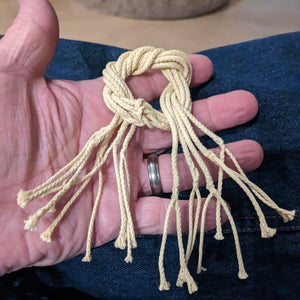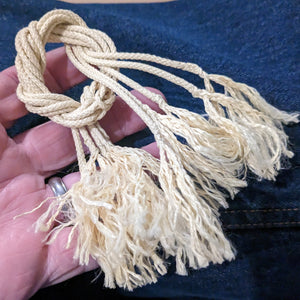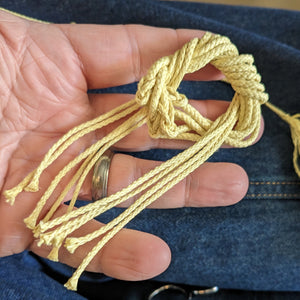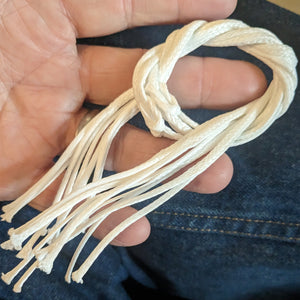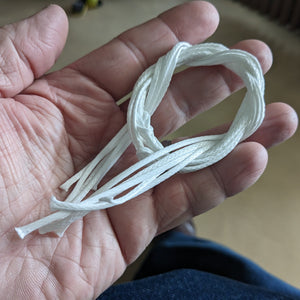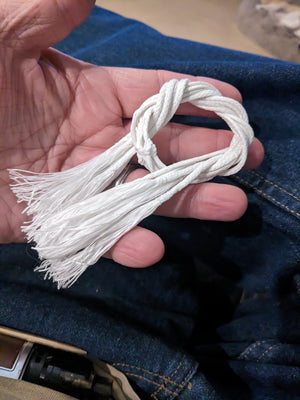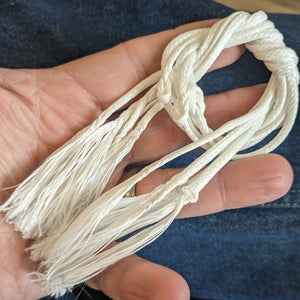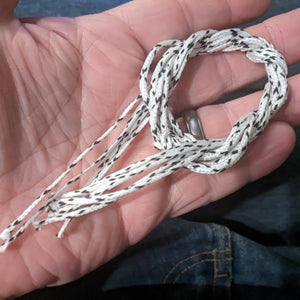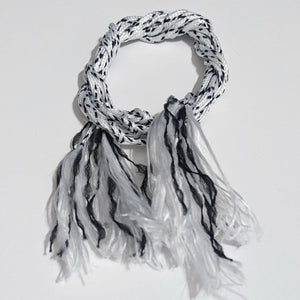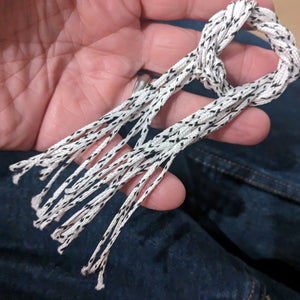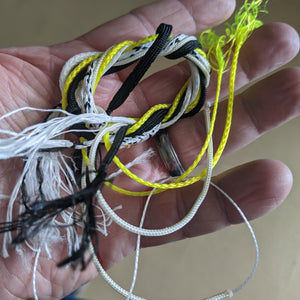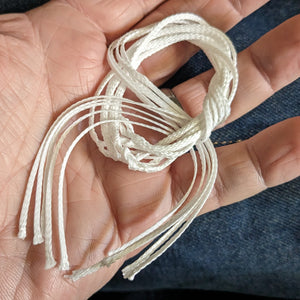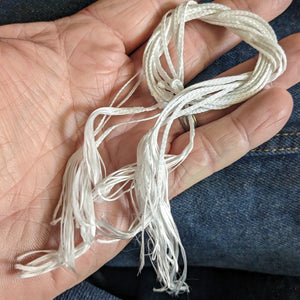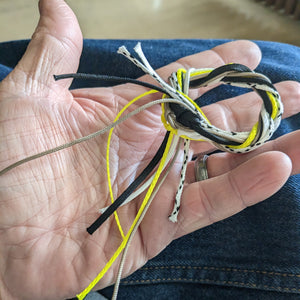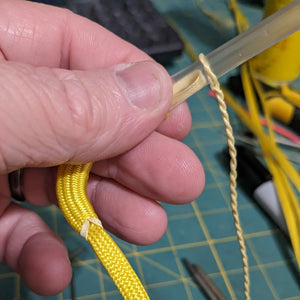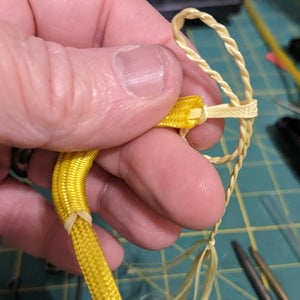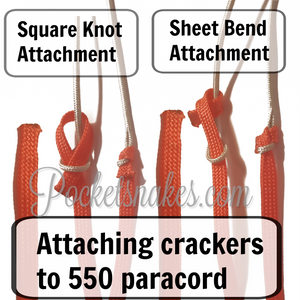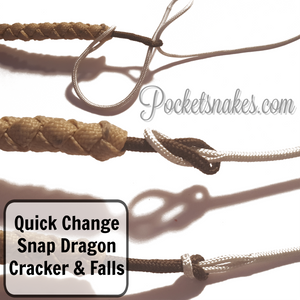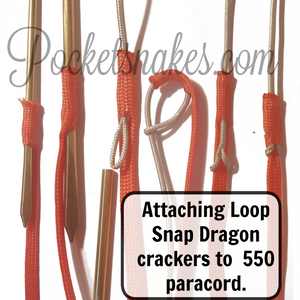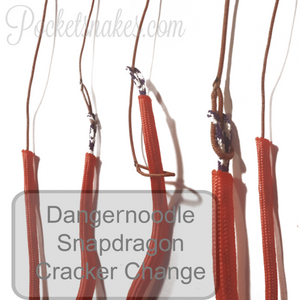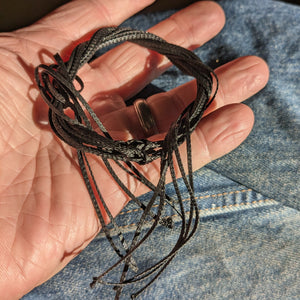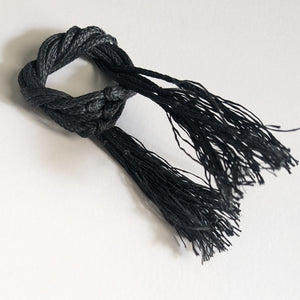 Snap Dragons Quick Change Crackers for any Whip
Handcrafted Snapdragon Braided Cord Crackers are individually crafted by me from cordage braided in the USA
Available in 12" tapered (doubled halfway) and 9" Doubled

Great on most whips including Dangernoodles.
HMPE (Ultra High Molecular Weight Polyethylene)
Nylon
Great on Bigger whips but best for Heavier, Bigger whips
Doubled PARA-ARAMID, Doubled VECTRAN, Doubled TECHNORA, Doubled SPECTRA
Material Specs:
Fire Whips - PARA-ARAMID or TECHNORA
(Gray)   DUPONT VECTRAN® 400lb braided material
Vectran®T97 HT is a high-performance multifilament yarn spun from liquid crystal polymer (LCP). It has high strength with virtually no creep or elongation. Vectran® has superior abrasion resistance, excellent moisture resistance, and exceptional property retention over broad ranges of temperature and chemical environments.
(Black)  TECHNORA® 400lb braided PARA-ARAMID material Similar to *KEVLAR*
Braided Technora® 400 Lb. tensile strength. Polyurethane coating. This coating protects the Technora® from UV damage, increases flexibility, better knot strength, and chemical resistance. Solution dyed Black: Solution or doped dyed yarns are manufactured by adding a black pigment color to the polymer melt in spinning process. This results in fibers that are fully impregnated with pigment coming out of the spinnerets in a one step process. This process results in outstanding colorfastness and enhances UV protection.
(Yellow) PARA-ARAMID 400lb braided material Similar to *KEVLAR*
400 Lb. tensile strength -This is an 8 carrier diamond braid para aramid cord.
Like DuPont Kevlar® which is also a para aramid. This cord has similar  performance characteristics. It has low stretch, high chemical resistance and very high tenacity. The major feature of this cord is the lower cost.
(White)  DUPONT SPECTRA® 500lb braided material.
Spectra ® 500 Lb. tensile strength UHMPE HMPE. Note: This product has been pre-stretched and heat set to reduce elongation over time. This cord is also coated with an soft waterborne aliphatic polyurethane and a polyethylene based textile softener. This makes the  Spectra ® better able to resist abrasion , and keep out contamination from dirt and sand that break down the fibers if allowed to get into the braid.
UHMPE Ultra-High-Molecular-Weight-Polyethylene Similar to *SPECTRA* but unbranded
Dalmatian 390lb Tensile Strength
White 290lb Tensile Strength
Black 260lb Tensile Strength
Super light, super tough, long lasting crackers.
Note: This product has been manufactured (braided, colored and coated) in the USA from a base material imported from an off shore manufacturer. It has similar characteristics as Spectra® and Dyneema® but it is not manufactured by Honeywell or DSM. This cord has a high tech abrasion coating with a neon yellow color. It is resistant to UV light, it floats, has low stretch and is very economical as compared to other high tech cords.
These crackers have a long bury standing eye, the long bury section is double thick helping reduce overhand knots. You can open the eye up some if you wish for easier attachment to the falls.  
If you choose to have me pre-feather these crackers, I finish them with a a couple of half hitches the smallest knot that will keep them together.
If you are not impressed with the crackers, send them back for a full refund.
They are made in pairs, with the eyes hitched together for easy installation.
TECHNORA® / PARA-ARAMID does not melt; it decomposes at relatively high temperatures (800°F to 900°F [427°C to 482°C]
And will turn to ash as they reach this temperature (you won't believe how long they will last in an open flame)
This makes them great for fire whip crackers. 
The PARA-ARAMID is uncoated, Tough and is the best for fire whips.
The TECHNORA has a very very light coating that will burn off in a soft flame but doesn't drip, bead or cause any issues that I have found.